Meet the All-New Nissan Sentra In All of Its Glory
The 2020 Nissan Sentra has stepped its game up, and this midsize sedan will cater to all of your driving needs. The Sentra has been around for decades, but it has evolved for 2020 with the latest tech features and better driving dynamics. Consumers from around Denville can choose from three available trims, including the SR, SV, and S. Let's get started.
Performance
The 2020 Nissan Sentra provides power and handling that will give you a thrill. This amazing sedan has been built to give consumers more standard power and better road agility. The available 2.0-liter engine will deliver at least 20 percent more power than the previous model. This equates to 149 horsepower. In addition to that, drivers can expect to get at least 15 percent more torque. Unwanted engine vibration is canceled out via a balancer shaft. For overall smoother ride quality, the new Sentra hosts independent rear multi-link suspension. Big and small impacts from daily driving will be jarred away for a much smoother drive. Thirty-nine mpg can be expected on the highway as well as 29 mpg in the city.
Safety
The new Sentra offers Nissan Safety Shield 360 innovation, which is a suite of advanced safety features. The Intelligent Around View monitor can help you ease out of tight spots thanks to providing a good overall view of the vehicle. While commuting on the highway, the Intelligent Cruise Control feature will keep you at a safe following distance from the vehicle that's ahead of you. There's also blind-spot warning, pedestrian detection, automatic emergency braking and lane departure warning.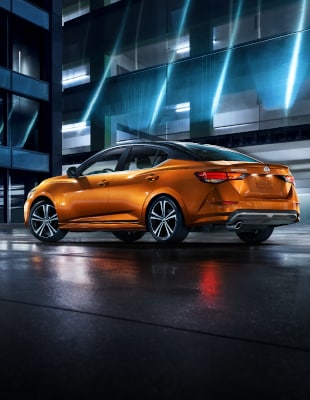 Features
From heated front seats to dual-zone automatic temperature control, the new Sentra has it all. This sedan even has a remote engine start system for easy access. Up to five people can sit in the cabin, and there are 60/40 split-fold rear seats. Smart storage options have been built-in to store personal belongings. Consumers can expect 14.3 cubic-feet of cargo space. Other features included are:
Bose Premium Audio
A USB-C port
Apple CarPlay
Android Auto
And much more
Come and visit our dealership today if you'd like more information on the new Nissan Sentra. You won't be disappointed.