Find a Great Deal on a New Nissan Rogue in Denville
The 2020 Nissan Rogue is automotive ingenuity at its finest and for good reasons. This popular vehicle is listed as a compact crossover, and it will certainly deliver to meet your driving expectations. Shoppers can choose from three available trims, including the Nissan Rogue S, Nissan Rogue SV, and Nissan Rogue SL. Advanced technologies are in abundance, and these technologies can be enjoyed by you and your passengers. Ease of use is the key to success, and the new Nissan Rogue can benefit your lifestyle in more ways than one.
Safety
The 2020 Nissan Rogue is out of this world when it comes to protecting you and your loved ones on the road. Right from the start, you'll have access to a boat-load of advanced components that are designed to secure your safety. Nissan Intelligent Mobility provides a full suite of safety advancements. This includes Rear-Automatic Brakes, Rear Cross-Traffic Alert, Pedestrian Detection, Blind Spot Warning and much more. All of these features are made possible through the use of radar-based sensors. These innovative sensors will detect objects on the roadways and will alert the driver to make adjustments. This type of on-the-spot detection will dramatically help to decrease hazards on the open road.
Performance
Though the Nissan Rogue comes equipped with a 2.5-liter engine, that doesn't mean that it won't offer an exceptional value on primed performance. This particular four-cylinder engine does its job by cranking out at least 170 horsepower. The power of this engine is responsive to your driving needs. The available XTRONIC CVT transmission provides excellent shifting that's smooth and balanced. Intelligent all-wheel drive gives each wheel the right amount of traction to ensure you can drive the roads of Denville with confidence, whatever the road conditions may be.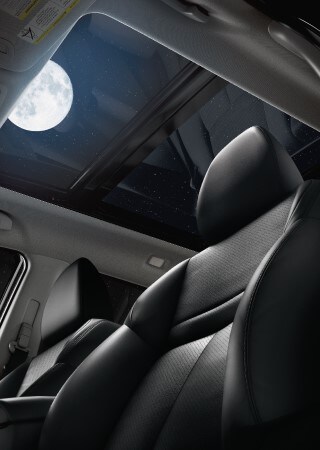 Features
Th Nissan Rogue has an excellent exterior that's aerodynamic in design. The V-Motion grille looks phenomenal and sets the precedent for what you can expect. For the interior, at least five individuals can sit comfortably on available leather-trimmed seats. The vehicle's controls are conveniently located for easy access, and there's an exceptional amount of cargo space. Other features included are a motion-activated liftgate, a Bose audio system, heated front seats, USB ports and Apple CarPlay.
We urge all interested buyers to visit our dealership today. Schedule to speak with one of our Nissan sales associates and we'll offer a test drive test drive with the new Nissan Rogue here at our Denville, NJ dealership.